Your Guide to the Ultimate Mother's Day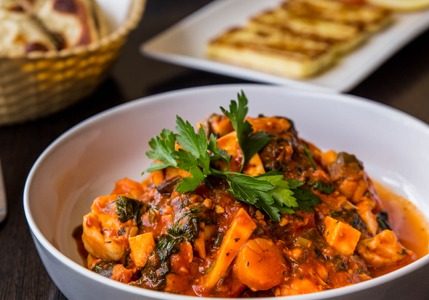 Mother's Day gives us the chance to celebrate the amazing women in our lives. The ones who care for us, lift us up when we're down and help us grow. Whether that's your mother, grandmother or another motherly figure in your life, show them how much they mean to you this mother's Day. To ensure the special woman in your life has the ultimate Mother's Day, we've listed some of our top tips below. Hint: they mostly involve food. Why? Because food is love, food is life!
1. Start Your Prep
All the best plans require some prep-work. Lucky for you, your task is super simple. As part of your Ultimate Mother's Day gift, we recommend taking mum and the rest of the family to lunch at the Odyssey Taverna + Café + Bar for an authentic Greek feast where she can enjoy city skyline views and live music. To put this plan into motion, you'll need to book in advance. Call the friendly team at The Greek Club on 07 3844 1166 or book online HERE to secure your table for the Mother's Day Sunday Lunch at Odyssey Taverna + Café + Bar. The Odyssey Taverna is always in high demand for Mother's Day so make sure to book early. Don't tell mum yet though, surprises are so much more fun!
On the day, you can either let the day's festivities unravel in their own time, or if mum's not one to go with the flow, present her with an itinerary for the day. Here's one we prepared earlier. Download our editable Mother's Day itinerary template to take your Ultimate Mother's Day surprise to the next level. Just change out the details to suit your plans. A simple way to add some extra wow factor!
2. Breakfast In Bed
The day has arrived. A heartfelt card, some flowers and a hot cup of tea or coffee served in bed will go a long way to brightening mum's day. Throw in some danishes, a breakfast fry-up or a cheeky yoghurt parfait and presto, you're mum's favourite person. Once she's enjoyed her first lot of Mother's Day surprises, announce that the food adventures have only just begun. Give mum ample time to relax and get ready for the day, then whisk her off to the iconic Greek Club for a lunch to remember.
3. Lunch At The Odyssey Taverna + Café + Bar
Renowned for its authentic Greek cuisine, the Odyssey Taverna + Café + Bar at The Greek Club is the ideal location for a long relaxed lunch with mum and the rest of the family. Choose from the range of beautiful Greek dishes on the Mother's Day Menu and ask our friendly wait staff to recommend accompanying beverages. Don't forget to round out your Greek feast with some classic Greek desserts. As you gaze over the Brisbane city skyline, our two-piece band will create the perfect atmosphere for a memorable Mother's Day lunch.
To browse our Mother's Day Menu, click HERE. Don't forget that our Mother's Day Sunday Lunch needs to be booked in advance. Call our team on 07 3844 1166 or book online HERE to secure your table.
4. Let's Go See The Stars
Once mum has had her fill of Brisbane's best Greek food, she's ready to be entertained. Take a short stroll down to South Bank and catch a movie at the Cineplex or jump in the car and make the short drive to Blue Room Cinebar for a gold-class experience. If a live performance is more mum's thing, head over to QPAC to see a show. Just make sure to book your tickets in advance.
5. Sweeten The Deal
She always told you not to have dessert before dinner, but we bet she'll let the rules slip just this once. Providing you still have room after that epic lunch, end the food adventure with mum's favourite sweet treat. Take her out for ice cream, unveil a dish of pre-made chocolate brownies or get mum involved in the action and do some family baking. If she's still got Greek on the mind, go with our classic Baklava Recipe.
Mission accomplished. Whether you use just one or all of these tips or customise them to make your own Mother's Day adventure, we know mum is going to love it!