The New Greek Club – Launching 2018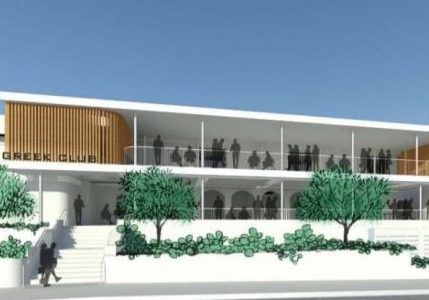 Brisbane's iconic Greek Club set to receive the makeover it deserves
Heard whispers around town that there's something big about to happen at The Greek Club? They're true! Brisbane's beloved Greek restaurant and function venue is preparing to undergo major renovations in 2018. Plans for the venue's relaunch are well underway and we just couldn't wait to spill the details.
First opening in 1975, The Greek Club has become an iconic Brisbane landmark for people from all walks of life. While the upstairs function space was renovated in 2009 and still offers a fresh and modern solution for our events clients, the venue's ground floor hasn't had a facelift since 1995. Careful attention to quality materials has seen the lower level through a good 22 years, but the time has come for an update. Being nestled amongst the rich culture of West End, it is imperative that The New Greek Club stays true to our historic roots, whilst embracing the modern design and facilities that will complement our superior service and cuisine.
The Facade
Think modern Greek minimalism. The exterior in bright white, balanced with warm brickwork accents and crisp greenery.
The Odyssey Taverna + Café + Bar
The modern Greek aesthetic will be continued through the Odyssey Taverna + Café + Bar which will feature thatched ceilings, wooden floors and all new furnishings. A stunning new bar will service both the inside restaurant and the terrace, with a modern selection of beverages to match the fit out. Moving inside, the Taverna kitchen will showcase sleek open servery so patrons can enjoy the full culinary experience as our chefs prepare each meal in traditional fashion. To top it off, the addition of a standing cocktail area and private dining room will ensure Brisbane's best Greek restaurant can cater to the requirements of the times. As for our authentic Greek cuisine, we'll continue to serve up the house favourites our patrons know and love as well as some exciting new additions.
The Function Spaces
The function rooms on the lower level of the club will be completely refurbished, offering sophisticated, modern event spaces for corporate and private functions. Upstairs, the addition of a Grand Balcony adjoining the Ballroom will take the venue to a new level. Able to be used a function space of its own or as an extension of the ballroom, the Grand Balcony will feature sweeping views of Musgrave Park and the Brisbane city skyline.
The Greek Club will be closed from January 2018 through to the end of March, and will relaunch in April.
Keep your eyes peeled for more information and artist impressions of The New Greek Club coming your way soon!