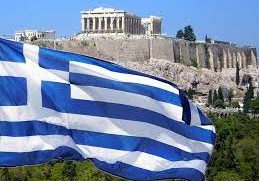 Join us for Lunch and select from our menu your choice, Meze, A La Carte, Banquet or $25 Lunch Special we will compliment your meal with a Greek Red Wine or Greek White Wine or Greek Beer.
On October 28th an important part of Greek history is remembered. Ohi Day or Oxi Day (Επέτειος του Όχι, 'Anniversary of the No' is celebrated in Greece, Cyprus and Greek communities throughout the world.
The "Day of No," is an important part of modern Greek history It marks the day when the Greek prime minister, Ioannis Metaxas rejected an ultimatum given by the Italian dictator Benito Mussolini during World War II. 
Benito Mussolini had requested Italian troops to cross the border into Greece, he responded to the Italian ultimatum in French, the diplomatic language at the time, "Alors, c'est la gueree!" or "Then it is War!".
In the days following, the word of Metaxas' denial had spread around the capital and the Greek population took to the streets shouting "Oxi!". His decision made on 28th October 1940, is commemorated each year as a day that represents bravery, solidarity and heroism for millions of Greeks all around the world.
Traditionally, Oxi Day is remembered with parades, flag decorating and wreath laying at various military memorials. This year, remembered Oxi Day with a traditional Greek meal from Nostimo Restaurant and take some time to remember when Greece said "no."