Recipe of the Month: Kotopoulo Avgolemono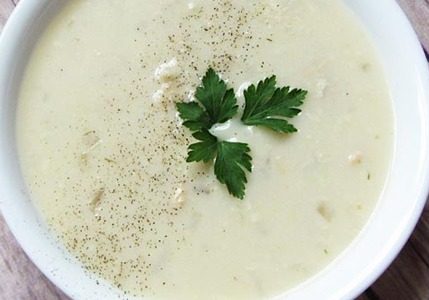 Chicken soup is a household favourite and is renowned for its health benefits and comforting properties in the colder months.
But the Greeks have gone one better. Kotopoulo Avgolemono combines the magic of chicken soup with eggs, lemon and rice in a delicious, flu flighting dish packed with Greek flavour. So good that our friends at Triple M even invited us into the studio to share it with them and their audience. Now we're passing the secret onto you!
Ingredients:
One whole chicken
5 litres water
1x cup of rice (150 grams)
3x eggs
2-3 lemons
½ cup olive oil or 200ml butter
Salt & Pepper
For an added boost to the immune system, throw in some ginger and garlic to taste
Method:
Clean Chicken and boil the chicken with water and olive oil
Debone and slice the chicken
Add the rice to the broth
Meanwhile, whisk eggs and lemon juice in a bowl until well combined. Whisking continuously, add three large ladles of hot stock to egg mixture, one at a time.
Reduce heat to low, then return egg mixture to stock. Cook, whisking continuously, for two minutes or until soup is white
Place a small amount of sliced chicken in the center of each pre-prepared warmed soup bowls then ladle soup over the chicken
Add some cracked pepper and serve with warm bread – Kali Orexi! (Enjoy!)
There are many variations to this recipe but you can't go past The Greek Club's for authenticity and flavour. Warm up this week with our Kotopoulo Avgolemono at The Greek Club's Odyssey Taverna + Café + Bar. Give us a call on 3844 1166 or click here to book a table.
Listen to our Assistant Taverna Manager share our soup secrets with the Triple M Breakfast Team!