Choosing the Best Seating Style for your Audience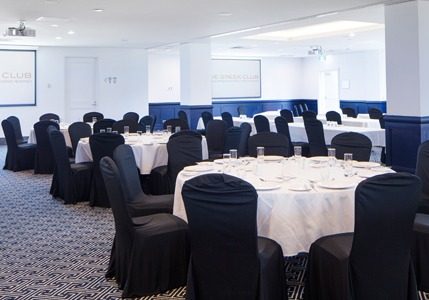 Once you've found the perfect venue for your next event or function, you need to start thinking about the room layout and in particular the seating style for your audience.
Whether you are setting up a business presentation, training classroom, hosting a gala dinner or product launch, the way you arrange your seating can make a big difference. You have invited your audience to communicate a message, so its important that your audience is seated in the best way to achieve the maximum impact. Here are the top 5 styles we think are best, here at The Greek Club.
Theatre 
This is the simplest style, reflecting the seating found in a cinema or theatre with chairs aligned in consecutive straight rows. This is a popular and successful style as all of the seats are facing towards the front of the room and maximum seat capacity can be achieved.
U Shape
As the name suggests this style is presented in the shape of a U, with the table in an open-ended configuration with the audience facing inwards. This set out allows the space to be open for a focal point or presentation area. It allows the presenter to become more engaging and interact with the audience.
Boardroom
This style requires an elongated table with the audience all facing inwards. This encourages the audience to interact more as they are all facing inwards.
Banquet
This style is similar to a round dinner table, with the audience seated around facing inwards. This is another great style to enhance interaction with audience members, as they are all facing each other.
Cocktail
This style is quite different from the rest, it does not require any chairs or tables- the audience are all standing. This is the most efficient use of floor space with the audience interaction greatly enhanced.
Here at the Greek Club with various different meeting rooms and function spaces, we can cater anywhere from 12-800 people. Click here to view our different corporate packages or give us a call on 3844 1166 to find out more.