Growing up at The Greek Club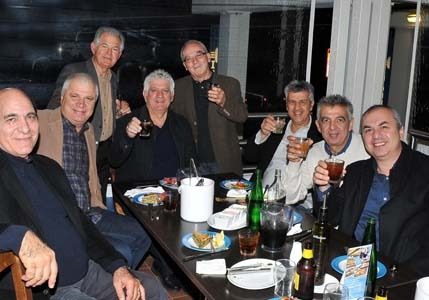 We get it. Growing up can be hard, and sometimes it's even harder to find somewhere to celebrate. But The Greek Club has you covered!
We love celebrating birthdays and know we can make yours a joyous occasion. Small, medium or large, we can cater for anyone. Let our team of hospitality professionals do the hard work for you so you can celebrate your birthday in style!
The Taverna
Our Odyssey Taverna is the perfect area for smaller groups of people. A lunch or a dinner celebration on our sun-kissed terrace overlooking the city skyline is the perfect view. The Greek Club offers authentic and delicious Greek cuisine that will leave you wanting more. To top it off we provide live entertainment Friday-Sunday to set the mood and take you straight to the Greek Islands (maybe not exactly- but close enough).
The Acropolis/ Ionian Room
These function rooms are perfect for medium-large size celebrations. With both Greek and Modern Australian menus to choose from the options are endless. The Greek buffet, a personal favourite by many is an ideal choice with various different options and, of course, all you can eat Greek food, what could be better?
Something Different
If you want to celebrate with something different this year we have the solution. Zorba Night! Zorba means "Live each day" and in our opinion, that is the perfect attitude to have on our birthday. Begin the night relaxing and bonding with your guests while enjoying Ouzo, cocktails, fine Greek food and watching how our award-winning chefs work together to produce signature dishes. Then the fun starts. Our dancers will not only demonstrate the traditional Zorba dance, they will teach it to everyone. If you are not familiar with this dance, it is not a solo, or even couple's dance. It is a group activity that is great fun, and will give you the opportunity to have a laugh.
If you are not much of a dancer, not to worry, there is more. The best way to celebrate in our eyes is with food. The Greek Club offers cooking classes, for your guests to learn the Greek delicacy the best way. Join chef George Balandinos as he guides you through a 4-hour hands on cooking lesson. Your guests will learn techniques that are unique to the Greek kitchen and finally be treated to a three-course Greek banquet complete with premium wines from The Greek Club's cellar.
Whether you're a birthday-zilla and love to celebrate, or want something low key, it's all here at The Greek Club. Give us a call today on 3844 1166 or click here to help you organise and celebrate your special day!