Hosting Corporate Cocktail Parties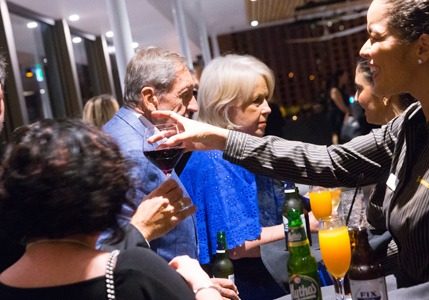 If there is any event that leads to more closed deals than the business lunch, it is the corporate cocktail party. They are the ultimate opportunity to mix, mingle, network and softly lobby and negotiate on behalf of yourself and your business.
As the old saying goes, "people do business with people, not companies" and there is nothing like a night of good music, plentiful drink and relaxed, friendly conversation, to turn that perspective client into an old friend, looking forward to giving you their business.
Of course, to make all this work and not turn it into a night of lost opportunities, you must make a perfect evening of it. You could go the traditional route and have it catered at someone's home. If someone in your company has a large enough house and the inclination to let it be used.
This method also means you take on the responsibility of the after party clean-up, parking for your guest, care for guests who may over indulge and security for both your guest and the host's home.
Cocktail Parties the Easy Way
A much more sensible course to follow is to use a venue that is experienced and specializes in holding corporate events like 'The Greek Club' in Brisbane.
They offer easy access, ample parking, delicious and unique menus, the very best domestic and imported beverages, distinctive entertainment, and can even arrange overnight lodgings, at quality hotels if your guest should need it. Best of all, they can provide all this at rates that no caterer would even consider. To my mind, there is really no doubt which path is most likely to lead to the best results.
Friendly Advice
A friend once told me,"There is a reason you don't let your mechanic do your taxes or ask your accountant to work on your car. Some jobs are best left to the experts."
Investing in hosting a corporate cocktail party is probably one of those times. Let the experts do what they do best and you can relax and reap the harvest of their labour.
Ready to see what's on offer? You can browse The Greek Club's cocktail party menus here 
Contact The Greek Club today to discuss how to make your next corporate function outstanding.