Gluten Free & Vegetarian Taverna Options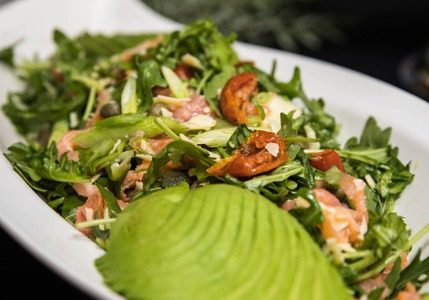 At The Greek Club and Odyssey Taverna we're serious advocates for good Greek food, and we believe everyone should be able to enjoy it! With ever changing dietary needs and the increased popularity of gluten-free lifestyles, we realise the importance of catering to the tastes of our valued members and guests. Dining out should be a fuss-free activity, with plenty of delicious options that meet your dietary needs, friendly staff and a great atmosphere. The Odyssey Taverna has got you covered. Our menu boasts a range of Gluten Free and Vegetarian options that are bursting with authentic Greek flavour.
Gluten Free Options:
CALAMARI TIYANITO – Baby squid lightly tossed in corn flour, fried & served with lemon wedges GF
OCTOPOTHI TIS SKARAS – Fresh deep sea octopus char grilled, marinated with red wine, olive oil & lemon GF
OCTOPOTHI SALATA – Marinated deep sea octopus grilled with red onions and tossed through balsamic dressed rocket GF
MARITHA – Whole, crispy, fried white bait, finished with sea salt, lemon, herbs & pepper GF
LOUKANIKA – Grilled traditional Greek pork sausage GF
MIXED GRILL – Chicken Souvlaki, two lamb cutlets, loukanika, yiros, pita bread and tzatziki GF
CORAL TROUT – Grilled in white wine and butter topped with a homemade lemon and cream sauce and served with a garden salad GF
KING RIB PORK CUTLET – Barkers Creek king rib pork cutlet grilled till golden in colour and finished off in the oven, served with chips GF
CHICKEN SOUVLAKI – Chicken pieces marinated with oregano and lemon then char grilled GF
LAMB SOUVLAKI – Skewered lamb pieces marinated with oregano and lemon then char grilled GF
GARITHES SAGANAKI – A soulful dish of prawns sautéed with garlic, baby spinach, feta, shallots and infused with red wine, ouzo & Greek tomato salsa Served with Greek salad GF
GRILLED BARRAMUNDI – Grilled fillet of Barramundi served with chips GF
YEMISTA – Greek stuffed tomatoes and peppers, loaded ground beef, rice and onion and drizzled with olive oil served with Greek salad GF
KOTOPOULO MIRODATI – Grilled chicken breast Marinated with Greek herbs and served with salad GF
SOUVLA SLOW COOKED LAMB – We Greeks know our way around lamb. Well done yet tender lamb slow cooked and braised for hours in the oven and served with lemon potatoes GF
LAMB CUTLETS – Four grilled lamb cutlets drizzled with olive oil and lemon juice, served with chips GF
PANCETTA HIRINO MIRODATI – Grilled Pork belly marinated with Greek herbs and served with Chips GF
ATLANTIC SALMON – Grilled fillet of Atlantic salmon served with chips GF
Vegetarian Options:
TYROKAFTERI – Homemade feta, capsicum and chilli dip V
FETA SAGANAKI – ROLLED IN FILO PASTRY Baked feta cheese delicately wrapped in filo pastry and drizzled with honey and sesame seeds V
SPANAKOPITA – A delicious filo pie made with spinach and feta cheese, served with Greek salad. Spanakopita is a classic Greek favourite that will work well as a light meal V
BREAD – Slices of homemade olive bread V
Gluten Free AND Vegetarian Options:
HALOUMI – Three pieces of traditional Cypriot cheese grilled then seasoned with oregano, lemon & pepper GF V
KEFALOTYRI SAGANAKI – Grilled traditional cheese made from sheep's milk seasoned with crushed pepper corns and lemon GF V
PEPERIES SAGANAKI – Pan fried Greek peppers with feta cheese, garlic and dill GF V
DOLMADES – Rice & fresh herbs wrapped in vine leaves then slow cooked and dressed with lemon olive oil GF/V
PATATES LEMONATES – Potatoes roasted with lemon juice, olive oil, garlic and oregano GF V VG
GREEK SALAD –  The Classic salad; tomatoes, cucumber, peperies, feta, onion and Kalamata olives GF V
PATATES TIGANITES – Chips served with oregano, thyme & aioli GF V VG
HORTA – Steamed spinach with olive oil and served with lemon wedges GF V VG
BAMIES STO FOURNO – Okra baked in the oven with tomato salsa V GF
GIGANTES PLAKI – Large white lima beans baked with onions, capsicum, tomato and herbs V GF VG
Mouth watering yet? Ours is! Book your table today at the Odyssey Taverna + Cafe + Bar today and indulge in fuss-free, authentic Greek cuisine that meets your dietary needs. Call our friendly team on 07 3844 1166 or BOOK ONLINE HERE.