Recipe: Kleftiko from Kefalonia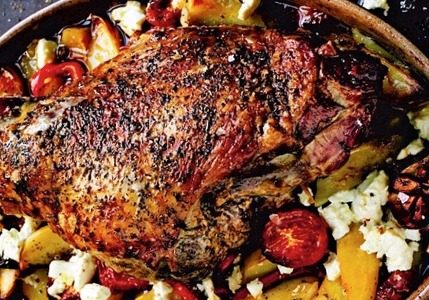 Marinated oven-baked lamb served with seasoned root vegetables.
INGREDIENTS
• Garlic cloves (to desired taste)
• 3 tbsp roughly chopped oregano
• 1 tbsp roughly chopped rosemary
• Zest 1 lemon and juice of 2
• ½ tsp ground cinnamon
• 3 tbsp olive oil
• 2kg leg of lamb
• 1kg Desiree potatoes, halved or quartered
• 5 bay leaves
FOR THE GREEK-YOGHURT
• 250g Greek yogurt
• Juice ½ lemon
• 1 tbsp olive oil
• Handful of mint, shredded
DIRECTIONS
1. Crush together the garlic cloves and 1 tsp salt using a pestle and mortar. Add the herbs, lemon zest, cinnamon, some black pepper, crush a little more, then stir through 2 tbsp of the olive oil. Using a sharp knife, create lots of holes all over the lamb, and rub in the paste, pushing it deep into the holes. Transfer the lamb to a large food bag, pour in the lemon juice and marinate overnight.
2. The next day, take the lamb out of the fridge 1 hr before you want to cook it. Heat oven to 160C/140C fan/gas 3. Lay 2 long pieces of baking parchment on top of 2 long pieces of foil – one widthways, the other lengthways to form a cross. Pop the potatoes in the centre of the parchment and toss with the remaining oil and some seasoning. Bring up the sides of the foil, then pour the marinade from the lamb over the potatoes and throw in the bay leaves. Set the lamb on top of the potatoes and scrunch the foil together tightly to completely enclose the lamb. Lift into a roasting tin and roast in the oven for 4½ hrs until very tender.
3. Remove tin from the oven and increase the temperature to 220C/200C fan/gas 7. Unwrap the parcel and scrunch the foil and parchment under the rim of the tin, baste the lamb with the juices and return to the oven for a further 20 mins until browned. Remove the lamb from the tin, wrap in foil and rest. Turn the potatoes over and return to the oven for 30 mins, then season with salt.
4. While the potatoes are cooking, stir together all the ingredients for the yogurt. Combine the red wine vinegar, oil and some seasoning to make a dressing for the salad. Toss together the remaining salad ingredients, adding the dressing when you're ready to eat. Serve the lamb with the potatoes and meaty juices, with Greek salad and yogurt on the side.