Christmas Fruit Cake Recipe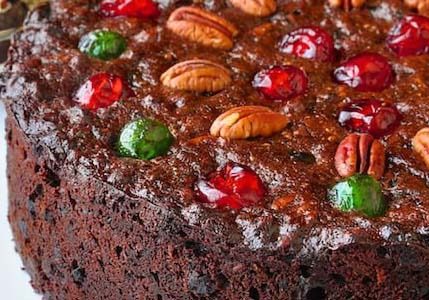 The most festive time of the year wouldn't be complete without a Christmas fruit cake. Perfect to serve on Christmas day, or as a Christmas gift, this recipe will not leave you disappointed.
Ingredients
1kg mixed fruit
250g unsalted butter
1 cup brandy
1/2 cup water
1 tablespoon treacle
1/4 cup white sugar
5 eggs
1 3/4 Cup Plain flour
1/2 Teaspoon bicarb soda
Glazed cherries
Almonds
Method
Pre-heat oven to 150 Degrees. Line a deep round or square pan with baking paper, bringing the paper above the edge of the cake pan.
Combine fruit, butter, brandy and water in the pan and stir over heat until the butter is melted and sugar has disolved. Bring to a boil and reduce heat- simmer for 10 minutes.
Remove from heat and leave to cool until it is at room temperature.
Stir in the treacle and eggs, then stir in sifted dry ingredients.
Spread mixture evenly in the pan. Place glazed cherries and almonds over the top of the cake for decoration.
Bake in oven for approximately 2-2.5 hours. Cover hot cake in aluminium foil and cool.
Of course if you aren't a fruit cake lover The Greek Club have plenty of Greek sweets and biscuits to serve. Give us a call on 3844 1166 for more information.