I Chose The Greek Club… November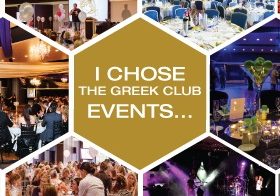 With the year coming to an end, this also calls for end of year celebrations. November has been a busy month at The Greek Club with various school formals, conferences, exhibitions and movie documentaries.
The Greek Club is known for its versatility with many different function rooms and facilities on offer. Here we've taken a look at two very different yet both very delicious foodie functions that chose The Greek Club as their venue.
MEDITERRANEAN MARKET PLACE | ACROPOLIS ROOMS 
Two Greek Girls Cooking hosted an exhibition to raise awareness of the benefits of the Mediterranean diet. This was the perfect opportunity to learn more about the Mediterranean Diet through experiencing it yourself! It included samples of produce from some of their sponsors, nutrition seminars, cooking demonstrations and medical seminars from their special guest speakers.
The set up required for this event was theatre style seating in the middle of the room facing towards a stage and data projector for guest speakers and seminars. Each supplier was placed around the edges of the walls making it easy for the guests to make their way around to each one.
"Our Mediterranean Market Place wouldn't have been such a huge success without the support, assistance and outstanding service of The Greek Club. The hospitality of staff to our attendees as well as the staffs willingness to accommodate our needs was seamless. We look forward to holding many more events at The Greek Club in the future. " – Lisa Peterson
GHD COOKING CLASS | BANQUET KITCHEN
They say magic happens in the kitchen, and at The Greek Club this is certainly true. GHD came in for a team building cooking class this month and were not disappointed. Chef George took them for a unique experience, throwing the teams personalities into the heat and energy of The Greek Club kitchen. The menu was nothing short of impressive:
Entree: Kataifi Prawns with avocado Salad. Prawns wrapped in a vermicelli pastry and deep fried with an avocado tomato and onion salad.
Main: Papoutskia , Eggplant filled with lamb mince, and topped with a béchamel sauce and Greek salad.
Dessert:  Greek Baklava, filo pastry layered over crushed walnuts and lemon scented sugar syrup .
"Oh my gosh, we all had THE most fabulous time at the cooking class at The Greek Club. It was honestly one of the best experience each of us have ever had. George the chef was fantastic and absolutely hilarious and Josie was just lovely. Scott greeted us with Mojitos as we arrived, and it was awesome! He is incredibly attentive and made sure no one had an empty glass at any stage of the night. It could not have gone better and we wanted thank The Greek Club so very much for everything. Not to mention how delicious the food was (even after we had cooked it ourselves), it was all an absolutely amazing experience."- Jessica Case