Behind the Menu: Modern Australian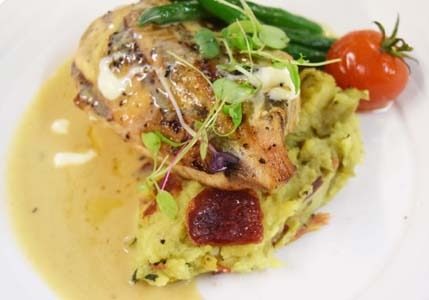 Being The Greek Club, you can trust that we are experts when it comes to authentic Greek cuisine, and you will find an abundance of delicious Greek options in
our corporate menus. Of course, we also know that some occasions call for more of a fine-dining experience, and we are proud to offer modern Australian cuisine options, designed by our Executive Chef, Jean-Louis Beaulieu.
The shift toward a modern Australian menu for event dining began in the late 90s and is still going strong. Modern Australian cuisine has been described as a fusion of flavours and techniques from a range of cultures. For The Greek Club, our modern Australian menu draws strong inspiration from classic French cuisine with a modern twist. Our menu focuses on fresh, quality ingredients and simple but indulgent flavours.
Aesthetics are also a vital part of our modern Australian menu, feeding our guests' visual appetites with beautifully presented, symmetrical dishes. A great deal of time goes into planning each dish to ensure that it is perfectly balanced in flavour and appearance, suited to a wide range of palates and affordable for our clientele without compromising on quality.
Some of our favourite modern Australian dishes include:
• Handmade ravioli with haloumi cheese, prosciutto, kalamata olives, lemon zest and white wine lemon sauce;
• Roasted fillet of beef with caramelised garlic pomee puree, heirloom tomato, melange of roasted vegetables and madeira jus; and
• Our Lucie dessert – Luscious strawberry wrapped in a light Jaconde sponge with a base of crunchy coconut Dacquoise topped with a jelly glaze, cluster of pink macaroon, grapes and strawberries
With 2 course modern Australian packages starting at just $55 per person between Monday – Thursday for lunch or dinner, our modern Australian menu is the perfect choice for your next function. CLICK HERE to browse our range of menu options or HERE to enquire about holding your next event at The Greek Club. If you have any questions, our Events Team is always happy to discuss them with you. Just call 3844 1166 between business hours.