3 Reasons for a Team Christmas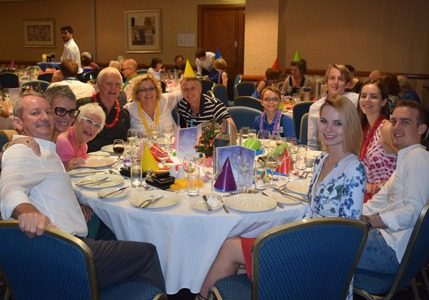 Even in the hectic end-of-year rush, there's one thing most businesses don't seem to forget – the all-important office Christmas party. Although Christmas is a time obviously meant for celebration, some firms may question the value of hosting a party to mark the occasion. Of course there's the ever-important draw card of food. But beyond that, Christmas parties can actually be a wise investment for your business and its employees. Here are three reasons you shouldn't miss the end of year work celebration.
1. A time to bond
Most employees don't have the opportunity to properly bond with their colleagues during the year. This problem is exacerbated if the departments across your company whom hardly have the chance to meet face-to-face, resulting in a somewhat divided work climate.
An end-of-year function allows the whole team to get together and have a bit of fun while getting to know each other better. You may also find that giving your employees the chance to enjoy themselves out of the office will boost their morale and sense of belonging at the company.
2. Recognize and reward your employees' efforts
Has your company had a breakthrough year, exceeding all of its KPI's and finally starting to turn a profit? What a perfect way to show your staff you appreciate their efforts by treating them to a proper Christmas function. Reward your employees by showering them with great food, entertainment and a lot of laughs.
3. Set the tone for the New Year
It's important for you and your staff to feel a sense of closure come the end of the year, so they can properly prepare for the year ahead.
The Greek Club, Brisbane's premier Christmas Party venue, is the best way to give your team a taste of something new this year. Celebrate in style with a tailored sit down dinner or cocktail party, relax with meze on the terrace or get hands on with one of our famous Zorba Nights. We do it all.
At The Greek Club, we want to make your Christmas function a breeze. That's why we're encouraging you to lock in your party in advance, by giving you an extra hour on your beverage package when you book before August 31st. CLICK HERE for more details and to see our Christmas packages, or give our dedicated Events Manager, Vasili, a call on 3344 1166.