Health Benefits of Greek Cuisine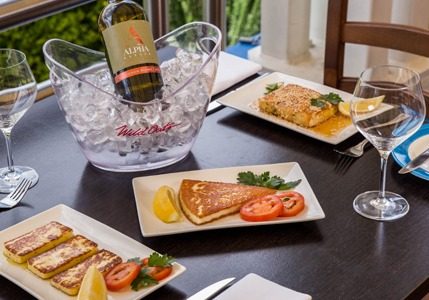 Haloumi, souvlakia, baklava…there's so much to love about Greek cuisine, including the significant health benefits that go along with a Mediterranean diet. Recent studies have shown that this eating pattern can reduce your risk of dementia and reverse symptoms of depression and anxiety. It also helps in preventing heart attacks and promotes a generally longer life. Opa!
Short of packing your bags and catching the next flight to Santorini, the easiest way to inject some Greek goodness into your diet is to gather up the team and head to the Odyssey Taverna + Café + Bar. Don't know what to order to start your Grecian health kick? Professor Itsiopoulos, an associate Professor at the University of Melbourne has developed 'The 10 Commandments of the Mediterranean Diet" to help you on your way.
The commandments are:
1. Use extra virgin olive oil as the main added fat
We use superior Minos extra virgin olive oil from Crete to prepare our authentic Greek dishes.
2. Eat vegetables with every meals
We source quality fresh and local market vegetables which play a key role in majority of our dishes.
 3. Include at least two legumes meals per week.
Try our Gigantes Plaki – large white lima beans baked with onions, capsicum, tomato and herbs (Vegan and Gluten Free), or our Revithia Me Hirino – Chickpeas with pork and vegetables oven baked with tomato salsa in a clay pot. Yum!
4. Eat at least two servings of fish per week
May we recommend our Coral Trout? Grilled in a white wine and butter, topped with a homemade lemon and cream sauce and served with a garden salad (Gluten Free).
 5. Eat smaller portions of meat (beef, lamb, pork and chicken) and less often
A guideline really…we suggest our Mixed Grill (with Chicken Souvlaki, two lamb cutlets, loukanika, yiros, pita bread and tzatziki) so you can try a small(ish) portion of all our amazing grilled meats.
6. Eat fresh fruit every day and dried fruit and nuts as snacks or dessert
Our Baklava is loaded with nuts…and delicious golden honey. But lots of nuts. Must be good for you!
7. Eat yoghurt every day and cheese in moderation
Save up your cheese allowance for our Feta Saganaki – baked feta cheese delicately wrapped in filo pastry and drizzled with honey and sesame seeds. It will rock your world.
8. Include wholegrain breads and cereals with meals
It might not be wholegrain, but our pita bread sure is good with tarama, tzatziki, melitzana dips
9. Consume wine in moderation and always consume with meals
All we heard was consume wine with meals. Done! With our wide range of imported and local artisan wines, we have something to suit every palate.
10. Have sweets or sweet drinks for special occasions only
Life is a special occasion! It's easy to get caught up in strict diets only to ultimately give into temptation. Go ahead and have dessert with your coffee. Everything in moderation.
Ready to start your Mediterranean health journey? The Greek Club's Odyssey Taverna + Café + Bar in South Brisbane offers authentic Greek food that will take your taste buds straight to Greece and leave you feeling healthily satisfied. Give us a call on 3844 1166 to make a reservation today or CLICK HERE to book online. Don't forget to bring the team along, diets work better with the support of your peers.