Theming suggestions for your next Gala Event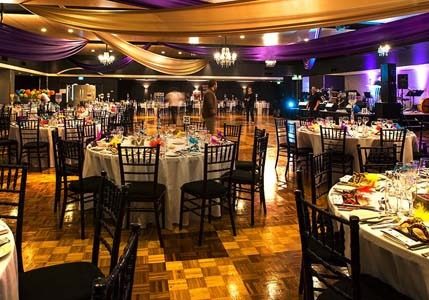 Selecting the perfect theme for your gala can really make or break the success of your event. Ensure your guest list is full and that those in attendance have a night to remember by choosing a theme that will generate excitement within the community and those involved. Here are a list of ideas that we think could help spark the interest of your guests and make it a night to remember.
• Masquerade: This is considered to be one of the most popular gala themes, mainly because it fits in perfectly with the black tie style of dress. This makes it easy for guests to join in with the theme through wearing a mask. Red carpet, stylish décor, live music and ballroom dancing are all elements to create the masquerade atmosphere and to draw attention to your event.
• Moulin Rouge: Entertain the guests with plenty of ballroom dancing, live acts, immersive costumes, elaborate sets, a décor with deep red and black shades and dim velvety lights. The Moulin Rouge theme is a glamorous affair featuring top hats, feathers and a lot of oomph.
• The Oscars: An Oscars-themed gala dinner complements your organisations awards night very well. The prestige associated with this grand event theme will wow your guests and attendees. Red-carpet entrance, photo walls, bright lights, paparazzi, theatrical costumes, Hollywood-inspired entertainment and props will surely add the charm and glamour your gala night deserves. You can get creative with awards night décor, whilst the dimly lit room contrasting with the bright lighting around the stage will create an amazing atmosphere.
• Grand Gala/Gatsby: The 1920's-style evening and Gatsby-themed gala evenings are always classy affairs with grand centerpieces, elaborate décor, sophisticated dressing and refined entertainment. The setting calls for rich yet subtle colours- white, silver, gold beige, and grey, whilst one can get very creative with the lighting and ambience. The set design comes to life with shiny gold and silver props. Classic black tie attire, elegant dresses, feathers and masks adorn the evening.
The Greek club has a variety of function spaces to make everything easier for you. Vasili, our Events Specialist, will tailor a package specifically for your unique event needs. With event spaces for 10 to 800 people, the Greek Club can cater to your event needs, large or small. With menus to suit everyone, choose from the modern Australian or Greek specialty menu, it will be a night you won't forget.