MEET PHILOFTOHOS' ANGELA TUMINI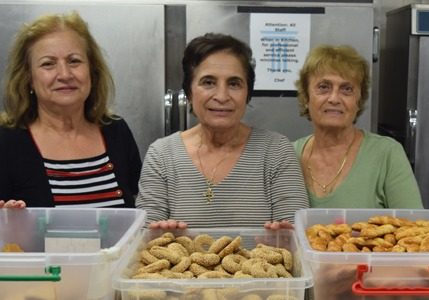 Name: Angela Tumini
Committee: Philoftohos
What is your background?
I am from an island in Rhodes, Greece called Gennadi and my husband, Aldo, is from Italy.
Where does your influence of cooking come from?
I was taught from my mum and self-taught myself a lot of dishes. My husbands sisters also taught me a lot, giving me the Italian influence in cooking the Italian flavours.

What is your favourite thing about cooking?
I like to please everyone and love seeing the joy of everyone eating my food.
What is your favourite food/dessert to cook?
I have a few things I like to cook:
– Kourabiedes (Greek shortbread)
– Dolmades (vine leave)
– Yemista (Greek stuffed tomatoes and peppers)
– Lasagne
– Capsicum chili chicken
– My famous pasta sauce
Why do you like being involved with Philoftohos?
I love to help people! My committee name is Philoftohos – which means friend of the poor.