KEFTEDES RECIPE (Greek Meatballs)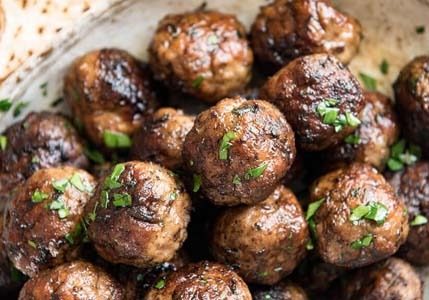 Keftedes- a Greek delicacy enjoyed by all. Keftedes are ideally served as a meze with some creamy tzatziki sauce and pita bread or as a main course served with basmati rice and a Greek Salad. Follow this recipe and 4 easy steps later you will have a plate of tasty keftedes.
Ingredients
500g ground beef
200g ground pork
1 large red onion (grated)
1 clove of garlic (minced)
1 cup breadcrumbs
1 egg
¼ of a cup chopped fresh parsley
6-7 leaves fresh spearmint (chopped)
2 tbsps olive oil
½ teaspoon oregano
Salt and pepper
Oil for frying
Flour for dredging
Method
To prepare this traditional Greek meatball recipe (keftedes), add all the ingredients into a large bowl and mix well (for about 5-10 minutes), squeezing with you hands, to allow flavours to blend. (if the mixture isn't firm enough, add some more breadcrumbs). Cover the bowl with some plastic wrap and let it rest in the fridge for 1 hour.
Turn the mixture for the keftedes out of the fridge and roll into meatballs the size of a walnut. Dredge the rolled meatballs lightly in flour making sure to shake off any excess. Fry until nicely browned on all sides.
The traditional way of cooking Greek meatballs is frying them. Fry the keftedes in batches of 10-15 at a time, until nicely brown on all sides.
Instead of frying you can bake/grill the keftedes in the oven. Preheat the oven at 200C, place the keftedes on greased baking sheet about an inch apart. Bake for about 20 minutes turning the meatballs upside down midway through cooking time.
And your finished- sit down, relax and enjoy your meal. It's as easy as that. Alternatively, you can leave it to the experts and come try our Souzoukakia (baked Greek beef meatballs in a red salsa served on a bed of rice) at the Odyssey Taverna- you wont be left disappointed. Give us a call on 3844 1166 or click here to book your table today.