Meet Christina Papadopoulos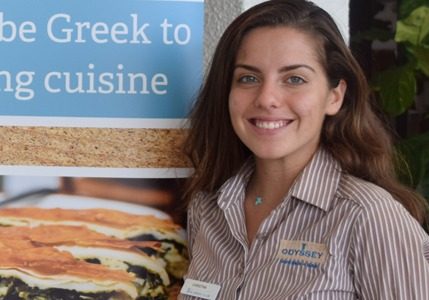 Name: Christina Papadopoulos
Position: Waitress
What is your favourite part about working for the Greek club? 
I love my country and working for the Greek club makes me feel like I am home again. I love to introduce to our customers the beautiful food and beverages and make them enjoy every single part of our culture.
What is your favourite meal? 
My favourite meal is and always was Yemista. It is traditional Greek recipe with tomatoes and capsicums stuffed with rice in the oven. Best combination with some feta cheese.
What attributes do you think you bring at the Greek Club? 
I recently moved from Greece and I brought with me this "Greek-ness". This is a huge attribute I brought to the Greek club. I have good knowledge of the Greek cuisine and also I speak the language so I am able educate our customers about the food and traditions. I think we give to our customers the original picture of our famous Greek hospitality.
What have the highlights of your time at the Greek Club? 
Our customers are definitely a highlight. They love the food, the music, the traditions without necessarily be Greeks.Some of them know the Greek history better than I do . It's an absolute pleasure to serve every single one of them.