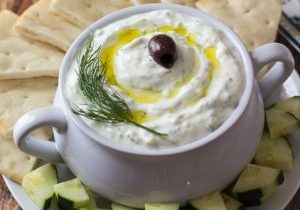 Tzatziki, known all over the world as a classic Greek meze option and the perfect Summer treat paired with fresh pita. Made from thick strained yogurt, cucumber, garlic, olive oil, and fresh dill. It's super simple to make and a hit at any get-together!
Ingredients
• ½ a large cucumber, unpeeled
• 1 ½ cups plain full-fat Greek yogurt
• 2 large garlic cloves, finely minced
• 2 Tablespoons extra virgin olive oil
• 1 Tablespoon white vinegar
• ½ teaspoon salt
• 1 Tablespoon minced fresh dill
Method
1. Grate the cucumber and drain thoroughly.
2. Combine the yoghurt, garlic, oil, vinegar, and salt in a large bowl.
3. Transfer the cucumber and dill to the yogurt mixture and stir to combine. Serve chilled with pita bread for dipping.
Warm up some fresh pita bread, sit down and enjoy the perfect Summer meze.