Recipe Favourite: Kourabiethes (Greek Shortbread)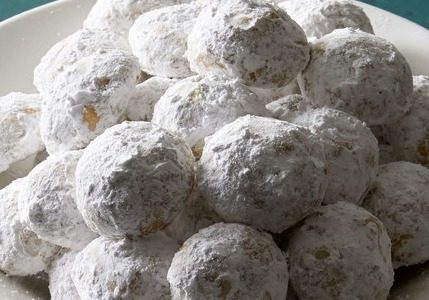 Where would Greek food and culture be without "kourabiethes"? (Pronounced koo-ra-bee-e-thes).  These shortbread style biscuits are synonymous with celebrations, often being baked during the very busy Easter period, name days, birthdays and of course Christmas. But don't let that stop you, there is always room for one of these tasty treats.  Four easy steps and they're ready to enjoy with your coffee.
Ingredients
2/3 cup flaked almonds
250g unsalted butter, softened
2 1/2 cups pure icing sugar
1 egg yolk
1 tablespoon vanilla essence
2 tablespoons aniseed essence
2 1/4 cups self-raising flour
1/2 teaspoon baking powder
Step 1
Preheat oven to 180°C. Line 2 baking trays with baking paper. Place almonds on 1 tray. Cook for 3 to 5 minutes or until golden. Set aside to cool. 2 Using an electric mixer, cream butter and 1/2 cup icing sugar until pale and creamy. Add egg yolk and beat until well combined. Add vanilla and aniseed essence.
Step 2
Sift flour and baking powder together over butter mixture. Using hands, crumble toasted almonds over butter mixture. Stir until dough comes together. Knead gently. Flatten into a 10cm disc and wrap in greaseproof paper. Refrigerate for 1 hour.
Step 3
Roll dough out until 15mm thick. Using a glass, cut circle shapes from dough. Place on baking trays. Bake for 20 minutes or until light golden. Stand biscuits on trays for 5 minutes.
Step 4
Roll warm biscuits in remaining icing sugar. Place on a wire rack to cool. Sift any remaining icing sugar over cooled biscuits. Serve.
Of course, you can always leave it to the experts and come and enjoy your Kourabiethes at the Odyssey Taverna + Café + Bar looking out over the Brisbane city skyline. Call our friendly team on 3844 1166 to book in your dessert date or CLICK HERE to book online.