Mid-Week Weddings on the Rise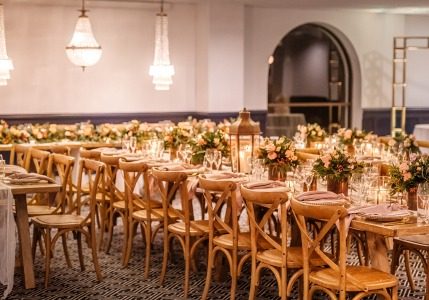 With many couples choosing to stick to tradition and get married on the weekend, it can be easy to presume that your wedding must also fall on a weekend date. However, you may want to consider the many benefits that are steering the norm into a different direction to mid-week weddings.
Greater Availability at your Dream Venue
The most popular wedding venues can get booked up around 2 years in advance. But, if you're looking to tie the knot at your dream venue sooner, a mid-week wedding date could make your wedding dreams come true!
Book Your Favourite Wedding Suppliers with Ease
Have you got your eye on a particular band you want to create the perfect party for you? Or perhaps you love how a particular photographer works and are desperate to have them capture your special day on camera. The best wedding suppliers tend to be in high demand and you won't want to lose out on such an important aspect of your day simply because of what day of the week your wedding is on. Choose a mid-week date and your wedding suppliers will likely have far greater availability. On top of all that, you may be the only wedding that the supplier has booked in for the day, in which case, you'll receive their whole and undivided attention.
Add Extra Special Touches
The savings you could achieve by booking your wedding venue during the week could mean you have room in your budget for some extra special wedding touches. How about a firework display to add a spectacular end to your day? Or, consider upgrading your wedding package?
Celebrate on a Special Date
Have you thought about getting married on the anniversary of when you first met? Or perhaps it would be special if you married on your proposal-versary? Limiting yourself to a Friday or Saturday wedding might not allow you to do this, plus, a significant date is far more meaningful than a date chosen out of necessity.
Of course, one of the best reasons is your dream wedding venue may offer a mid- week special wedding package. This can save you a lot of money, especially for those bigger weddings. Here at The Greek Club we offer a highly competitive wedding package with all of the inclusions. Click here to view our mid-week packages and get planning today.