MEDIA RELEASE: Nostimo Restaurant & Bar to open in Brisbane with acclaimed Greek Chef David Tsirekas as Chef in Residence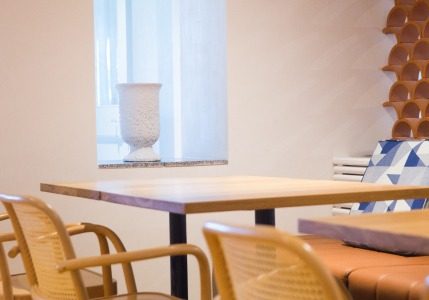 Renowned 1821 Executive Chef brings contemporary Greek cuisine to Queensland in the spiritual home of the Greek Community
The Greek Club's new signature Greek restaurant, Nostimo Restaurant & Bar, is set to welcome internationally acclaimed Sydney-based Greek Chef, David Tsirekas, as Chef in Residence when it opens at the end of June.
This unique role of Chef in Residence will see Chef Tsirekas create a refined, modern Greek offering, celebrating traditional Greek flavours with sophisticated execution in what is a completely new restaurant and food offering. Tsirekas will continue his practice of highlighting local and fresh ingredients by working with local farmers and suppliers, taking a similar approach that saw him lead 1821 to incredible acclaim.
He will split his time between Sydney and Brisbane, sharing his vision with the Nostimo culinary team, and diners, with visits every month. Nostimo Restaurant & Bar opens as part of The Greek Club's $3million renovation and represents the spiritual home of the Greek community and Greek food in the city, making the dining experience truly authentic.
Brisbane will also be sharing Tsirekas' flavours with Chicago, after he was approached to oversee the launch of two modern Greek restaurants in the US city after mega restaurateur Louie Alexakis heard about Australia's Greek food, met Tsirekas and tasted his dishes.
One of Nostimo's signature dishes under the culinary baton of Tsirekas will be Swordfish Kalamaki – skewers of barbecued swordfish marinated in olive oil, fresh ginger, lemon zest, shallots and tarragon, served on a bed of traditional fassolada, a traditional Greek soup make from black eye beans. It is a dish that represents the perfect marriage of flavours.
The Greek Club General Manager Andrew Tambakis said David's acceptance of the unique position was a watershed moment for the brand-new restaurant.
"We are very excited and humbled to welcome David to our team. As Executive Chef of 1821 in Sydney, David continues to impress with high quality, innovative dishes that always deliver on flavour, yet remain so authentic and true to Greek flavours," said Mr Tambakis.
"It is his commitment to celebrating local produce and his experience in understanding the history of Greek cuisine, together with his vision for shaking up Brisbane's Hellenic dining culinary scene that makes him such a wonderful leader for Nostimo Bar Restaurant," he said. "He is working hand in glove with Head Chef Vangjel Jorgo and the kitchen team on opening menus, signature dishes and dining experiences and will be resident at Nostimo every month."
Located in the heart of Brisbane's rich and vibrant Greek community in West End, Nostimo Bar & Restaurant is a stunning modern interpretation of a traditional Greek dining experience. It will seat 75 diners in the restaurant and 85 on its terrace which overlooks the Brisbane city skyline. The restaurant features white rendered walls, over 15,000 cascading worry beads, thatched ceilings and terrazzo finishes – celebrating the look and feel of the Greek Islands.
Nostimo will be open for lunch Monday to Sunday, dinner Monday to Saturday and be available for exclusive bookings.
Nostimo Restaurant Bar
The Greek Club – 29 Edmondstone Street, South Brisbane
Lunch: Mon to Sat 11:30am to 3pm, Sun 11:30am to 4pm
Dinner: Mon to Fri 5pm to 9pm, Sat 5pm to 10pm
P: 07 3844 1166
E: dine@nostimorestaurant.com.au
W: www.nostimorestaurant.com.au