Izabela & Pawel's Wedding: Polish Folklore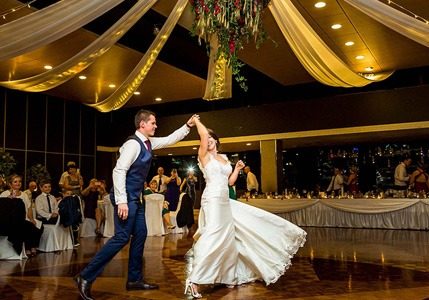 Iza and Pawel's love story is a fairytale come true. Introduced by a mutual friend through Brisbane's Polish community, the pair hardly spoke for a year before finally giving into their secret crush. In April 2016, the two celebrated their wedding reception here at The Greek Club and it was such a spectacular night that they were featured in Brisbane Brides magazine.
Izabela explained to Brisbane Brides why she and Pawel chose the Greek Club.
"I visited The Greek Club by myself and was greeted by Katherine who was absolutely amazing from the very first moment. I was sold straight away as the Grand Ballroom had such a big dance floor which would suit our guests perfectly. I wanted Pawel to see it as well so I had organised a day full of venue viewing with The Greek Club being last. We started at 8am and by the time we were ready to see the last venue it was nearly 4pm. When we stepped into The Greek Club, Pawel turned to me and instantly said 'Why did you bother showing me all the other ones, this one is perfect!'" she said.
Izabela also shared how the couple chose to theme their special day, transforming our Grand Ballroom into a vibrant slice of Poland right here in Brisbane.
"Our theme was POLISH FOLKLORE with lots of green and red, and the Polish country feel. Our vision came to life with the amazing help of Agnieszka (Anges) from Angie's Floral Design, Athena from Celebrating in Style (table setting) and Captivating Moments," said Izabela.
The night was truly magical and we wish this happy couple all the best. Congratulations Iza & Pawel!
Venue: The Greek Club
Photos: Kwintowski Photography
Styling: Celebrating In Style, Angie's Floral Designs, Captivating Moments