Easter Spirit: Respite Morning Tea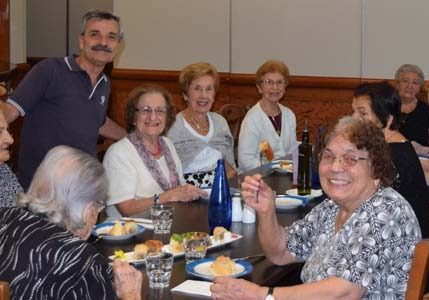 The Greek Club is a multi-faceted organisation, with our Odyssey Taverna restaurant, unique wedding and function facilities, members program and full social calendar. But beyond all these aspects of the club we remain a non-profit organisation with the goal of giving back to our community in as many ways as we can. One area of our community that The Greek Club is proud to be involved with is the Greek Community of St. George Respite Centre. In the spirit of Easter, we invited our friends from the Respite Centre over to the club for a delicious morning tea. Making the short journey to our Odyssey Taverna + Cafe + Bar, our guests enjoyed dessert platters packed with Greek favourites like kataifi, baklava and galactobouriko as well as their morning caffeine hit prepared by our friendly Taverna team.
It was wonderful to see the morning tea come together and to engage with the Respite Centre members and staff. Irene Girdis, a Respite Centre member, reflected on her time at the Centre.
"I love everything about the Respite Centre. It gets me out of the house and I really enjoy it," said Irene. "We get to play games like bingo and basketball and the Respite Centre provides us with morning tea, lunch and afternoon tea. I've been able to make valuable friendships and I look forward to coming in each week."
Respite Care Worker, Dimitri Giannakopoulos, helped to facilitate the morning and shared his perspective on working with the Respite Centre.
"I have worked with the Respite Centre for 16 years. Being able to put a smile on people's faces is what makes it so rewarding," Dimitri said. "The Greek Community of St. George Respite Centre focuses on the well-being of our guests. Our priority is to make each day safe and enjoyable for them. Each day we run a different program to keep things new and exciting."
"We are also heavily involved in the festivities surrounding Easter. Regular church visits and fasting at Easter time are important aspects of the Greek culture and we make sure to accommodate for this," he said.
Stergos Papastergou, Greek Club Committee member and Respite Care Worker of 8 years, was also able to attend the morning tea and shared his appreciation for the club's involvement.
"We love being able to come to The Greek Club for lunches and morning teas! We are happy to be able to involve our members in the festivities of Easter," he said. "Working with the Respite Centre allows me to give something back to the community. I love laughing with our members and bringing joy to their day."