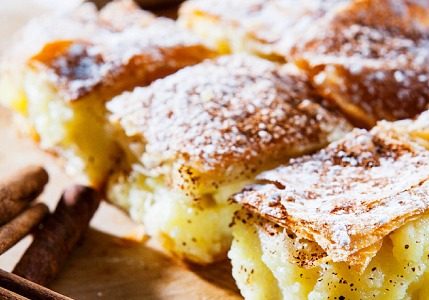 Layers of buttered filo encase a sweet custard which is baked into a golden flaky pie. Dusted with icing sugar and cinnamon, it's the perfect accompaniment to, well, just about anything.
INGREDIENTS
3 1/2 cups milk

 1/2 cup white sugar

 2/3 cup plain flour

 2 tablespoons cornflour

 1 tablespoon vanilla sugar

 1 tablespoon vanilla essence

 4 egg yolks

 1 lemon, rind finely grated

 14 sheets filo pastry

 150g unsalted butter, melted

 2 tablespoons cinnamon sugar (see note)
METHOD
Combine 3 cups milk and white sugar in a saucepan over medium-high heat. Bring to the boil. Remove from heat.
Combine plain flour, cornflour, vanilla sugar, vanilla essence, egg yolks and remaining 1/2 cup milk in a bowl. Whisk to form a paste. Slowly add hot milk mixture, whisking constantly, until smooth. Return custard to saucepan. Cook, stirring with a wooden spoon, over low heat for 10 minutes or until thickened. Do not boil.
Remove from heat. Add lemon rind. Pour custard into a heatproof bowl. Cover surface with plastic wrap and refrigerate for 3 hours or until cold.
Preheat oven to 180°C. Lightly grease 2 large, flat baking trays. Place 1 pastry sheet on a work surface. Brush with melted butter. Fold in half crossways to form a rectangle. Spoon 1/4 cup custard onto pastry centre. Brush edges with butter. Fold long edges over to cover custard. Fold in sides to form a 7cm x 11cm rectangle. Place, seam side down, on prepared tray. Brush top with butter. Sprinkle with a little cinnamon sugar.
Repeat with remaining pastry, butter, custard and sugar. Bake for 15 minutes. Swap trays over in oven and bake for a further 5 to 8 minutes or until golden and crisp. Stand for 10 minutes to cool slightly. Sprinkle with remaining cinnamon sugar. Serve warm.
The perfect sweet for any occasion.